Wedding boat Amsterdam: celebrate your wedding on the canals
Getting married on the Amsterdam canals
With a classic fleet of saloon boats, canal boats and harbor ships, we have a wide range to choose from if you want to get married on the canals of Amsterdam. Whether you want a big lavish party or just a small intimate ceremony with a lunch, a beautiful canal cruise on your wedding day with cozy drinks & bites or a romantic cruise with a served dinner on the Amstel, you can always come to us.
Official wedding location
The boats of Rederij de Nederlanden have been designated as official wedding venues by the downtown district of Amsterdam. So the wedding ceremony can take place on board with us. So you can officially get married on the canals of Amsterdam! If you prefer to get married in the city hall or church, you can have the dinner and wedding party on board. We will make sure you have a great day!
The possibilities are endless. We are happy to help you realize your dream wedding with our years of experience. Getting married on the canals of Amsterdam is memorable, even for your guests.
Getting married on a boat in Amsterdam
Would you like to get married and celebrate your wedding on a boat in Amsterdam on the beautiful canals? Naturally, our classic boats are equipped with a bar, heating, toilet and, of course, music systems for various media. Of course, all our ships are equipped with a microphone for the necessary speeches and congratulations.
In addition, there are many extra possibilities, such as an LCD TV screen on which a beautiful presentation can be given, live music on board or a DJ who makes the guests dance until late in the night. Moreover, almost all of our boats operate electrically: environmentally friendly, quiet and emission-free. We develop our own electrical systems for our boats.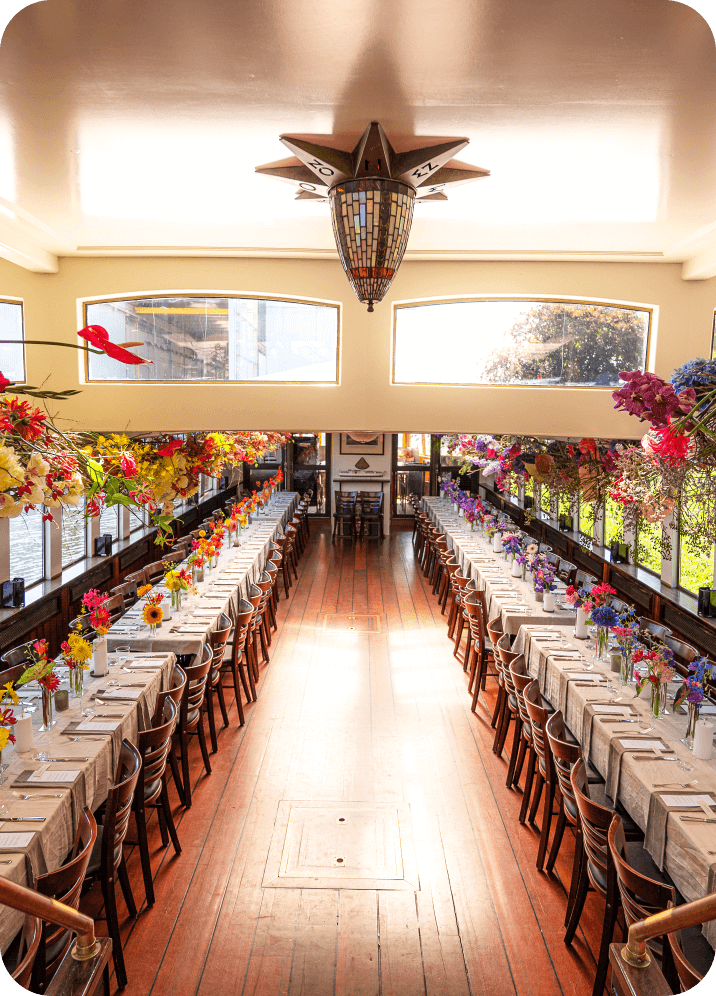 Learn more about a wedding boat in Amsterdam
Are you considering a wedding boat in Amsterdam? Our boats are designated as official wedding venues by thedowntown district of Amsterdam. If you want to get married on board, you need to arrange several things directly with the district. You can take an option at the Civil Affairs Department on a day, time and location for your marriage or partner registration. Our wedding consultants will be happy to guide you with advice regarding the application.
If you have booked the boat with us, you will personally go to the civil affairs counter with our confirmation. Then you can convert the option into a final booking. In doing so, be sure to meet the two-week deadlines set by the district, or the reservation will be cancelled. You can specify where the official should board.
Options for getting married on a boat in Amsterdam
The options in terms of catering for the wedding boat Amsterdam are extensive. Consider appetizers, buffets or a served dinner. If you have specific needs, let us know! Customization is standard for us. And for guests with specific dietary requirements, we will of course put together a suitable alternative in consultation with the caterer.
You are always welcome to stop by our office to meet, view the boats and have a cup of coffee to make your wedding the ideal day.
Do you also want to plan a
unique wedding on a boat?
Contact our in-house wedding planner at info@denederlanden.com or call 020 – 4233006. She explores with you the initial possibilities and guides you to one of the most beautiful days of your life.