Book the most beautiful wedding venue at Rederij de Nederlanden!
Are you getting married soon? Get into the wedding boat with Rederij de Nederlanden and enjoy an exceptional wedding on board with your spouse. With special dynamics and fantastic views, make your sailing wedding a unique experience. From a big party through the Amsterdam canals to a small ceremony with delicious dinner. Or from lavish drinks to lunch with an intimate gathering. Getting married on board, it's all possible at Rederij de Nederlanden.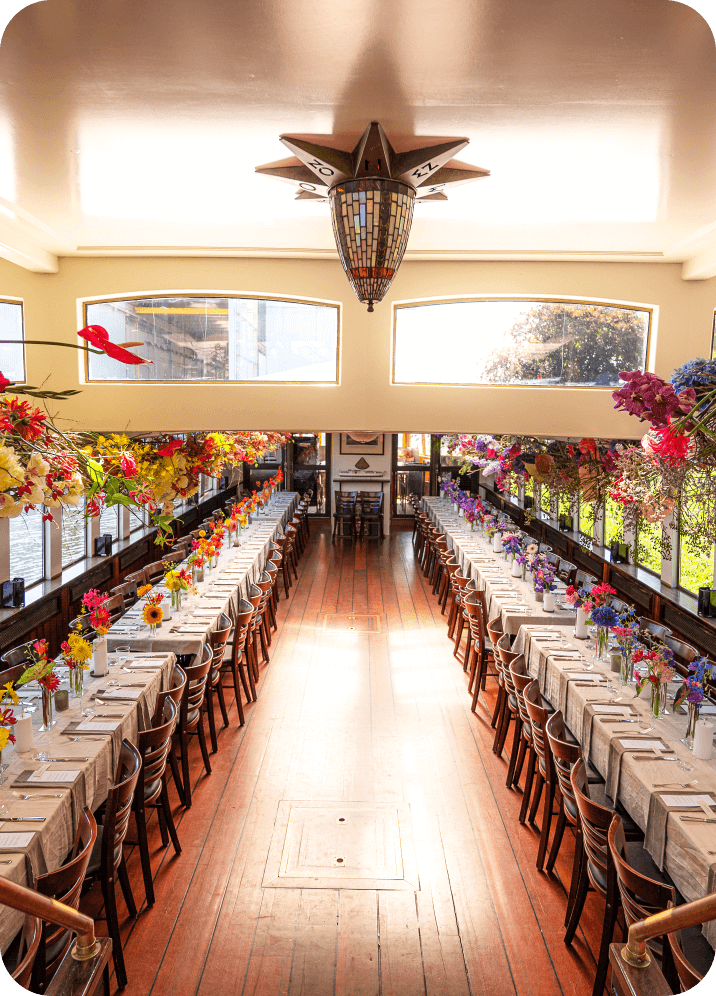 A carefree wedding day
All of our ships are official wedding venues and have been the main act during wedding ceremonies on several occasions. The possibilities are endless. Weddings on board can be done with a small party on the Najade all the way to the Wapen van Amsterdam where you can invite up to 175 guests. The ships of Rederij de Nederlanden are fully equipped and can sail with an open roof in fine weather. Should the weather turn or diminish, all or part of the shutters can be closed, and if it cools down, the heaters can be turned on. We make all your wishes come true to give you and your soon-to-be the most beautiful day of your life. As a wedding couple, you can count on our expertise and hospitality. Enjoy carefree and we ensure discretion and respect your privacy.
Make all your wishes come true with Rederij de Nederlanden
Enjoy with your guests a sunset on the water or dancing on the deck in the sun with Amsterdam and its surroundings as a backdrop. A special experience as the ship sails quietly down the Amstel River, the IJ River or through Amsterdam's canals. It could hardly be more special
Do you also want a
unique wedding planning?
Contact our in-house wedding planner at info@denederlanden.com or call 020 – 4233006. She explores with you the initial possibilities and guides you to one of the most beautiful days of your life.